Recovery Coaching Curriculum & Training!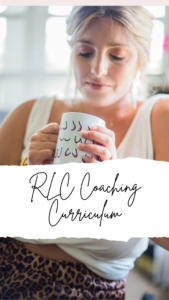 Recovery Love and Care offers personalized and tailored curriculum and trainings for aspiring Recovery Coaches!
Want to be an Eating Disorder Recovery Coach, but don't know where to start?
Looking into Recovery Coaching Certification?
Is the Coaching Certification process overwhelming you?
Questions on how or if Coaching Curriculum is valid or ethical?
Are you a coach, trainer or helping professional , and feel that you want to reach a wider range of client's?
Do you want to start dabbling within the Telehealth world but feel overwhelmed?
Are you ready to take a deep dive into the virtual world of coaching and help those in need across the globe?
Are you a clinician but need help figuring out the HIPAA compliant paperwork, ethics, and legality behind coaching?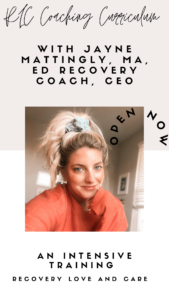 Recovery Love and Care can help!
Jayne offers personalized trainings to aspiring Recovery Coaches through RLC Coaching Curriculum!
Want to become a part of someone's treatment team?
Want to help clients with body image?
Want to help clients find food freedom?
Become a clinically trained, ethical, and confident Eating Disorder Recovery Coach through the RLC Coaching Curriculum.
Recovery Love and Care can help YOU help OTHERS find recovery in a safe, ethical and HIPAA compliant way!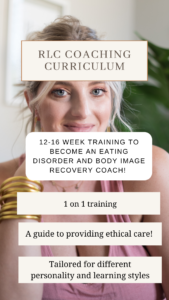 What does the Recovery Coaching Curriculum Consist of?
RLC Coaching Curriculum is a 14-16 module training tailored to each trainees needs
A personalized recovery coaching curriculum reviewing…

Clinical Skills
Intuitive Eating
Health At Every Size
Neural Retraining
Body Acceptance
Coping Skills
Cognitive Behavioral Therapy Techniques
Various therapeutic and coaching frameworks
Ethical standards
Collaborative care
Proper paperwork
Understanding of scope of care
Group supervision (Bi weekly)
Branding and Marketing Processes
Contact Jayne today for more information on how to become a trainee!
RecoveryLoveandCare@gmail.com
(630)908-0362