Recovery Love and Care is all about providing accessible care and support for those in need! We offer virtual coaching, as well as, virtual dance parties, virtual courses, and virtual groups! No need to leave your house, just click on the link and sign up! Recovery Love and Care uses HIPAA compliant, confidential software, so any course, or sign up is guaranteed safe and through stripe payment.
Recovery Love and Care

Dance Party Testimonials
"The live dance party was so much fun, I was honestly hesitant at first, I was having a rough day and spent a lot of time going back and forth whether I was going to join or not. Come 7 pm I decided to bite the bullet and join, telling myself if it wasn't for me I could always leave. Within the first 2 minutes I felt so welcome, any worries our doubts disappeared and I was able to completely let go and enjoy myself. I spent 30 minutes dancing as if no one was watching, all the while connecting with some amazing women who were all experiencing the same things I was. Afterward, the Q&A portion was really nice, in addition to asking questions we were given the opportunity to just share what we were struggling with. The day after this dance party I had so much more motivation and emotional energy to be a bit more productive and finally felt more like myself than I have the last couple of days. "
-Dance Party Attendee
Introduction to Mindfulness & Body Image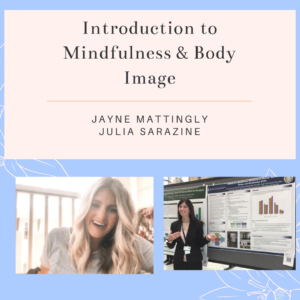 Course Testimonials
"I did the Mindfulness and Body Image course that Jayne offered with her Aunt Julia, this course was really informative and helpful, I've spent a lot of time researching both mindfulness and body image but this course offered a ton of information and tools that I had never seen before and will definitely be putting to use going forward. I loved the way it was organized, it started with some mindfulness aspects and tools, then moved to body image and then combined the two. It felt very practical and manageable, I took notes, participated in the activity and feel like I'll be able to apply pretty much the entire course to my daily life. I really hope that you guys decide to do a part 2, and I'll definitely be keeping my eyes peeled for it :)"
One on One's
Meet with a coach, therapist, or dietitian for a quick one on one session! Due to the recent changes in this world, Recovery Love and Care is offering discounted One on One calls. We offer a 45 minute phone call for $65 or a 30 minute phone call for $50.
In addition to this service we will provide you with referrals, recommendations, handouts, book recommendations, and a summary of what we discussed during session. We understand not everyone can commit to Recovery Coaching, so this is an alternative option!
Virtual Eating Disorder Groups
Meet with a group from the comfort of your own home! Support and a strong sense of community is a major component within Eating Disorder Recovery, and we are happy to provide you with that community from the comfort of your own home!
Meet with our Masters Level and Certified Eating Disorder Recovery Coaches from anywhere in the world! Download our confidential, HIPAA compliant app and take one step further within your Eating Disorder Recovery.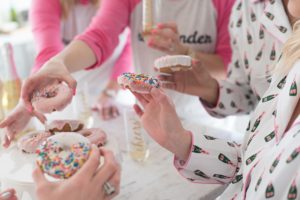 Virtual Eating Disorder Support Group
Contact Jayne Mattingly for more information!