As another extension to my body positive series, today's post is about body checking. Body checking is a very common behavior within individuals with Eating Disorders. What do I mean by body checking?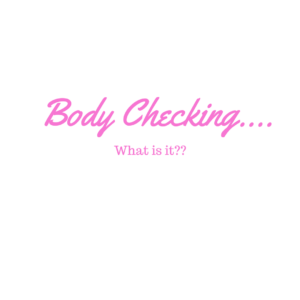 Body checking: Constant "checking", looking, touching, and/or intensely focusing on a body part and/or section or area of your body. The "checking" is fueled by insecurities on how the individual thinks or feels that they look.
My Story: This is something that many individuals struggle with throughout their Eating Disorder. One main form of body checking is involves mirror checking….
It started at the young age of ten, when I went through puberty, every single time I went to use the restroom, whether it was in a public place, school, work, or at home, I would wash my hands, look in the mirror, suck in my stomach, and slightly lift my shirt, to check my belly with my hand in the mirror. Every time I looked at my belly in the mirror I hoped to find some sort of strength, success, and worth. It became so much of a habit that I did not even realize I was doing it. One day my nutritionist advised me to try to not "body check" for just one day, I broke down in tears after the first half of that day, because I never realized how much I actually "checked" my body. Little did I know that every time I lifted up my shirt and grazed my belly with my hands, I lessened my self worth, tore down my self love bit by bit, and further engrained an emotionally dangerous behavior into my life. I was constantly judging myself, comparing my self worth to that of what I "wanted" it to be at that time.
The difficult thing about healthy body image is that it does come last within ED recovery. Therefore individuals within ED recovery are usually done with, or working towards, finalizing their treatment before they even graze the surface of their physical and emotional self worth, before they learn about how to develop a healthy and positive body image. Having an emotional behavior such as thinking and feeling poorly about one's body is not immediately detrimental to an individual's health like that of using other ED behaviors, such a,s binging, purging or restricting, therefore behaviors ,such as, Body checking often go unnoticed and untreated, but it does effect functioning and an individual's overall self-worth, therefore it is worth addressing and treating!
Body checking is a behavior, therefore a habit that can be deeply engrained within an individual's functioning, and can be very difficult and scary, leaving and individual feeling vulnerable. Starting slow is the safest way to go about eventually ridding of body checking…
The first step is awareness and acceptance. The second step is slowly acknowledging your feelings while practicing this behavior. This is the safest way to approach to an emotional behavior, such as body checking. The third step is slowly, and safely eliminating the behavior from your everyday functioning, therefore taking it one-step at a time. If you ever feel too vulnerable, reach out to your closest support, go to your comfort box, and practice self-care, self-care, self-care!
As you acknowledge your body checking behaviors, I also challenge you to find a positive emotional behavior that you practice on a daily basis, for instance, the joy that brewing your morning coffee brings, listening to your favorite music, cuddling with a loved one, warming up by the fire place, lighting your favorite candle, any healthy behavior that make you feel your best! Please reach out if you have any questions or comments, don't forget to subscribe, have a wonderful weekend, and self care it out my friends!