This post may contain affiliate links. Purchasing through them will help support this website.
My loved ones can attest to my slight obsession with skin products…it has ALWAYS been my go to "luxury self-care" and I'm still finding ways to experiment with skin care within my self-care practice! Now YOU can benefit from my LOVE for skincare! I have tested out some fantastic DIY natural face masks, as well as, listed some of my favorite organic products for you to implement into your daily luxury self-care practice!
Skin care, face masks, and pampering myself was a major part within my personal Eating Disorder Recovery. Whenever I felt triggered or shameful for using behaviors I learned to resort to soothing and natural behaviors, such as, skincare and DIY masks! Therefore, the use of products and skincare was so much more than a concept of vanity, instead it was a replacement of unhealthy behaviors, it was a way to find comfort and treat my body with respect!
We constantly think about what we put INTO our bodies, but what about what we put ON our bodies?! We always read the ingredient labels on the back of our food, analyze every word that we can't pronounce, every nutrient, or lack there of, so why don't we do so for our skin products? Our skin absorbs everything it comes into contact with, it protects us from the outside elements, and in turn we should treat it with kindness and appreciation!
I talk about the many tiers of self-care within a previous post, that I will link here , and with that it is important to remember that skincare is a luxury self-care. I use face masks, creams, and other skincare products to ease my mind, soothe my skin, and just relax, therefore it is in the absence of loathing my skin, or wanting to change my skin for the better, instead it is to promote a state of overall wellbeing, and show my skin and body some love! To have some "me time!"
All Natural DIY Face Masks
1. DIY Honey and Turmeric Face Mask!
This is my favorite all natural DIY face mask! Turmeric is truly one of my favorite ingredients to use for almost anything, because it has so many benefits! Turmeric is a natural anti-inflammatory, as well as, a natural skin lightener. This mask calms irritated skin, hydrates the deeper layers of skin, fights and prevents bacteria that causes acne, and lightens any dark spots, scars and sun damage! It is my favorite "after the beach" self-care AND it is all natural!!
To Use: Take one table spoon of turmeric and put equal parts of honey in a bowl, stir until the mixture turns into a paste, you may have to add extra honey! Make sure you are wearing something that you don't mind staining, as turmeric is difficult to remove from clothing! Generously lather the mixture onto cleansed and slightly dampened skin, and let sit for 15 to 20 minutes, rinse with warm water!
2.Apple Cider Vinegar
This is a tried and true, oldie but goodie, easy does it face mask! It is crucial to use raw, unpasteurized and organic apple cider vinegar with "the mother" as this is where all of that good nutrients come from! I use this face mask when my skin starts to break out, feels oily, or my skin tone is a bit uneven! You can use the apple cider vinegar as is, or you can add honey for some added moisture and acne fighting benefits!
To Use: Shake the apple cider vinegar, pour about two table spoons into a bowl, apply with cotton ball to a freshly cleansed and damp face. Let sit for about 10 to 15 minutes, wipe with damp washcloth or rinse with water! You can add equal parts honey for extra acne fighting benefits and added moisture. You can also add half part lemon juice to better even skin tone and combat dark spots! Below are links to my favorite apple cider vinegar brands.
All Natural Face Masks and Skin Care Self-Care!
1.Lime and Lotus is a Charleston based, all natural, phenomenal brand that is geared toward individuals with sensitive skin! All of their ingredients are free from synthetic chemicals, paraben preservatives, petrochemicals, phthalates, artificial colors and artificial fragrances I LOVE these products! Their mission is to enhance your natural beauty….naturally, how refreshing! The Purify charcoal facial masque is the ONLY charcoal based mask that I can use. I have incredibly dry and sensitive skin, and therefore most charcoal based products tend to dry my skin out, but this mask is somehow incredibly hydrating, and soothing! It purifies, detoxes and moisturizes the skin with a soothing feel and delicious all natural scent! Make sure to check this one out if you have dry and sensitive skin! (Linked below)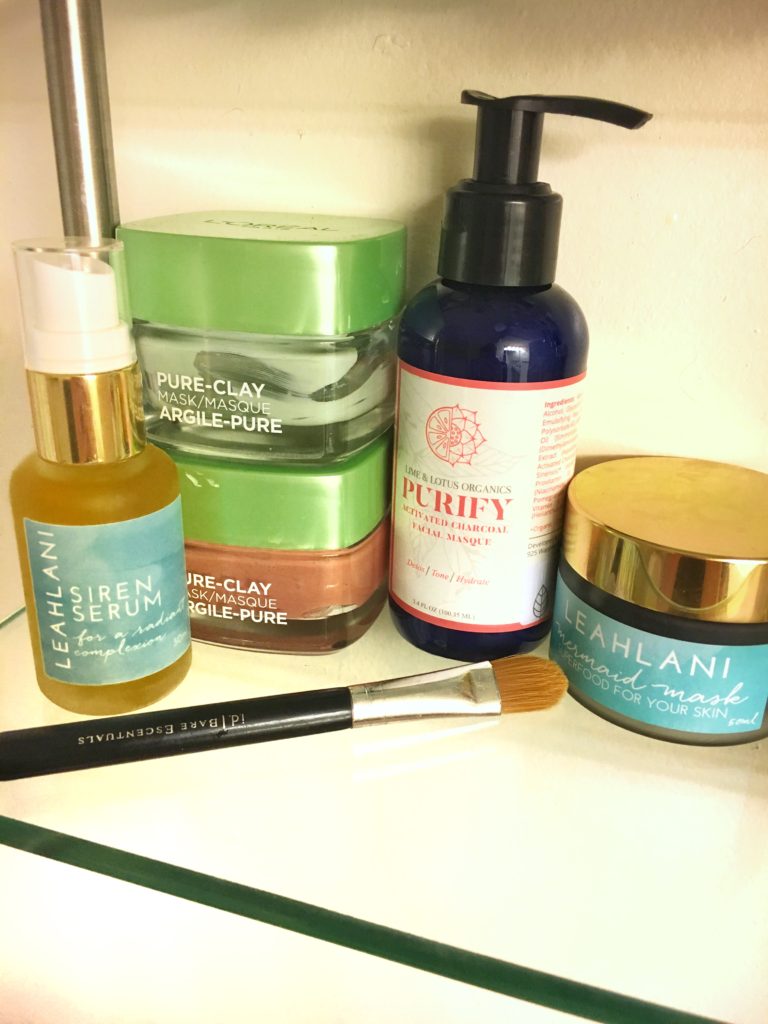 2.The other all natural face products that I am currently obsessed with are the LeahLani Skin Care products! I recently stopped by Mylk Bar in Mt. Pleasant, SC and had a fantastic, all natural pedicure and manicure, while sipping on a lovely glass of rose! As a side note, Mylk Bar is THE place to be if you are in the Charleston area, I forbid you to go ANYWHERE else for a manicure or pedicure!  After my all natural pampering, I treated myself to the LeahLani Mermaid Mask and Siren Serum. Guys….these. products. are. amazing! The mask is truly like a green smoothie for your face, I had some hormonal acne around my jawbone and chin area, as well as, some dark spots from a recent trip to the beach, and no lie, with just TWO uses my skin was cleared! Full disclosure, I also used the siren serum, which is a nutrient rich, all natural, acne fighting serum that has absolutely aided to my glowing results. As a reminder, I am in no way affiliated with any of these brands, just a happy customer!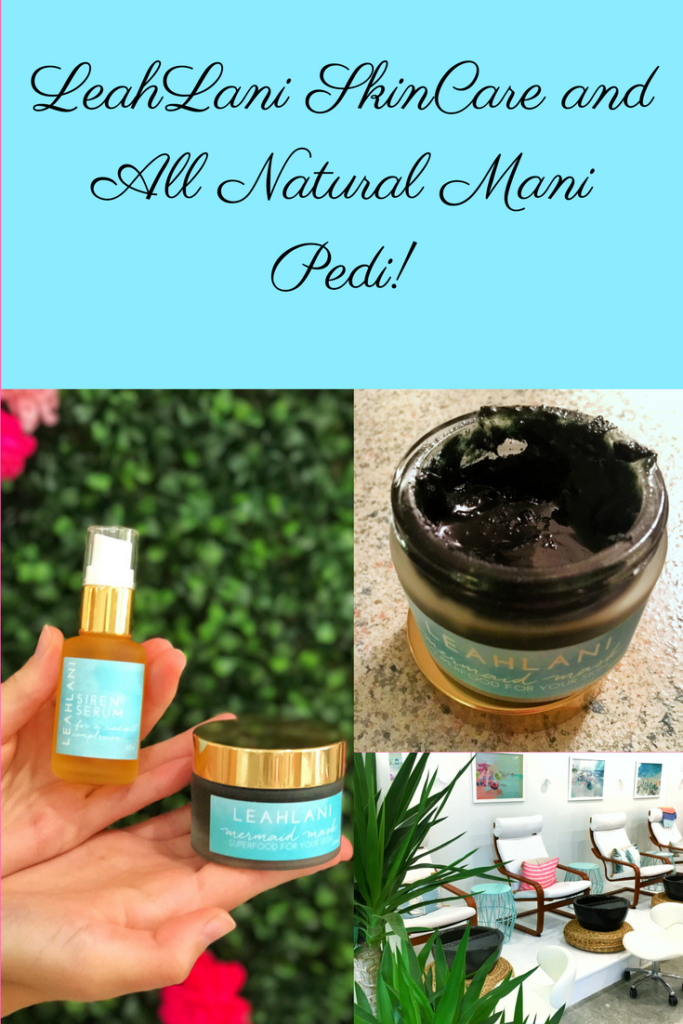 Below are a few other all natural masks that I am currently trying, although I have not been using them long enough to review. I will ink them below!
1.I drink Matcha in my lattes, so why not use them on my face?!
2.Pumpkin?! I will never turn down anything with pumpkin as the ingredient, we will see how this pans out!
I can't wait for you to try these masks! Remember, skin care for self-care can be in the absence of self loathing and in the presence of self-love! It is absolutely a luxury self-care, it will not bring instant body appreciation or a higher level of self-worth, but it will help you feel relaxed, feel soothed, and allow you to take care of YOU! I challenge you to show your skin some all natural love this week, you will thank me I promise! As always, #selfcareitout!