Keep reading to learn my tips and tricks for maintaining self-care and protecting your Eating Disorder Recovery while on the road! Self-care is so very important, especially while we are traveling! Self-care can be used as a preventative practice in place of unhealthy behaviors, such as restriction, dieting, overexercising, binge eating, purging, etc. We can live a life filled with self-love, self-compassion and body appreciation through the constant practice of self-care!  More on my road trip self-care kit below!
Recovery Love and Care is a participant in the Amazon Services LLC Associates Program, an affiliate advertising program designed to provide a means for sites to earn advertising fees by advertising and linking to Amazon.com. This post is not sponsored by any of the independent brands, I am just a HUGE FAN of the products and wanted to share them with my amazing readers!
This past weekend Sean, Gio and I drove from Charleston, SC to Washington DC to celebrate my younger sister's college graduation! What a fabulous weekend it was, filled with family, food and fun! We made it a quick trip because Sean had to work on Monday; therefore we made somewhat of a "guest appearance" in DC.
Even within hectic weekends on the road, it is so very important to implement a safe self-care routine to ensure healthy behaviors and body appreciation! And for anyone within Eating Disorder Recovery, maintaining a self-care routine is that much more crucial, as it ensures a continuous and SAFE recovery!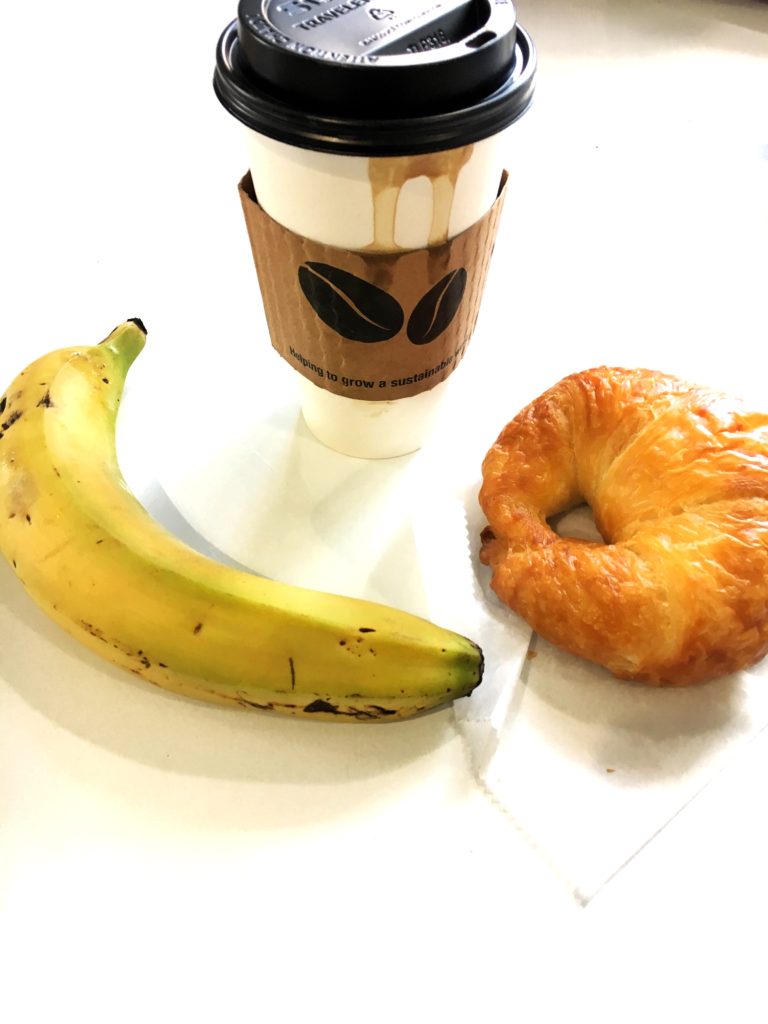 With a total of 16 hours in the car, and an intensely scheduled weekend, it was needless to say that we were incredibly exhausted and sleep deprived! I am ALWAYS down for a good party and celebration, especially when it's with my family…but with that comes transition, and with transition comes stress! Remember both good and bad things can cause stress; any state of change causes discomfort and creates a feeling of an off kiltered world. Stress can cause for emotional triggers and can lead to unhealthy behaviors and/or coping mechanisms. Therefore, it is up to US to take care of ourselves and prevent this transition and change from causing TOO MUCH discomfort. (For more about prevention within recovery click here).
As I have touched on previously within the blog, I am a huge proponent of the "comfort box" as a healthy coping mechanism within Eating Disorder recovery (make sure to check out this post to read more about the comfort box). If you are a newbie to the blog, the comfort box is pretty much a way to train the mind and body to use safe, healthy and alternate forms of coping to work through anxieties surrounding food, body image conception and stress. With that, I have used this notion of the comfort box, and weaved it into my transient life as a busy woman!
I have implemented self-care into my daily life through the use of self-care kits. I carry these "kits" in my purse; keep them in my desk, by my bedside, in my workbag, and even in my car! Below is a picture of my most recent self-care kit for this past week's road trip!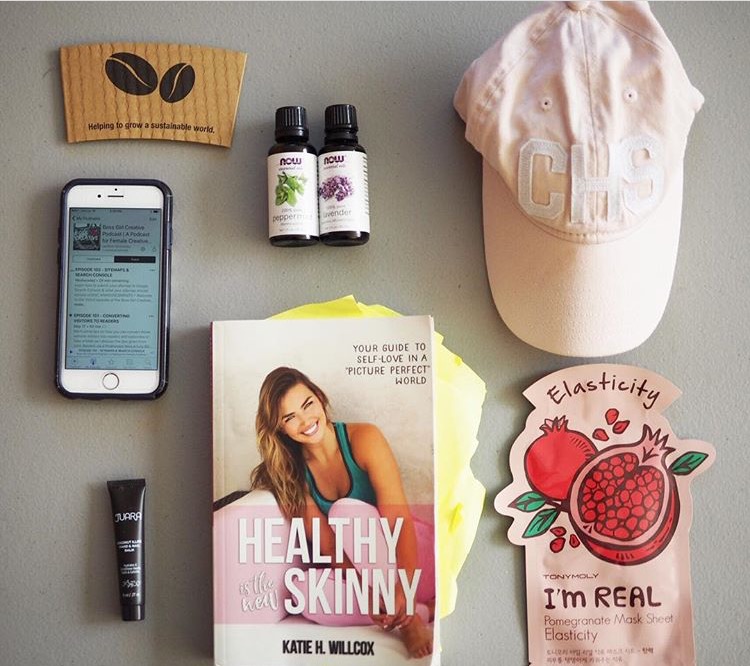 1. Healthy Is The New Skinny is my bible these days, hence all of the post-it notes! Make sure to check out the book review here!
Healthy Is the New Skinny: Your Guide to Self-Love in a "Picture Perfect" World
2. Sheet masks are my favorite form of luxury self-care. This brand, (Tony Molly) I'm Real Mask, is amazing, and so much fun! The pack consists of 11 individually wrapped sheet masks, with a large variety of ingredients and purposes. One of my favorites is the Pomegranate (pictured) for elasticity, the red wine for pore care, and the broccoli for vitality!  Each mask, in addition to their fun ingredients and names, provide an enormous amount of hydration and nourishment to the skin. The masks always leave me feeling refreshed, revitalized and relaxed! AND they are cheap, at less than $11 per package…thats $1 per pop!
[Tonymoly] I'm Real Mask Sheet Package + Egg Pore Nose Pack with bonus Oil Blotting Paper – Best Korean Beauty Products, Facial Skin Mask. Pore Tightening Blackhead Minimize
3. Body cream is always a must….Juara (@Juaraskincare on Instagram) is a FABULOUS and AFFORDABLE option, I love it because of it's natural ingredients, such as, avocado, turmeric and ginger! Pictured is a travel size of their Candlenut Body Creme, but the full size comes in a decadent jar for a small price of just under $27! (Reminder that I am not sponsored by these brands, just a huge fan)!
Juara Body Creme, Candlenut, 7.5 Ounce
4. I always need a good podcast on a roadtrip….Boss Girl Creative is my most recent obsession, you MUST check it out!….
5. Coffee, this of course, is within my everyday routine! I prefer to add some protein into my coffee, either soy milk or, even better, coconut milk….yum!
6. A cute hat to shade my face while driving in the sun is a must! You can find more like these at The Charleston Weekender.
7. Essential Oils are a HUGE part of my daily self-care routine, I prefer lavender to help me sleep and relax, and peppermint to energize and start the day off on a fresh note! Make sure to check out my past post on essential oils.
3-Pack Variety of NOW Essential Oils: Tea Tree, Eucalyptus, Lavender
~Self-care is so very important, in that we must listen to our bodies and treat ourselves with respect and love like we do others!~
We must hydrate and nourish our bodies, minds, and souls, and with some extra self-care we can do that! I encourage you to create your own self-care kits, it is a HUGE STEP towards self-compassion and self-love!! #SelfCareitOut my friends!